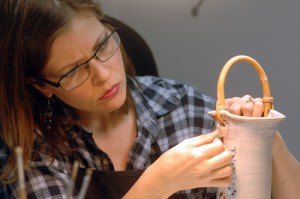 The Renewal Factory is owned and operated by Holly Holland who has been a restorationist for nearly 25 years. She along with her husband Robert live and have worked in the Piney Woods of East Texas for over 14 years. The Renewal Factory is open 9:30 to 5:00 Monday through Friday, and Saturday by appointment only. Contact is suggested at all times when planning a visit or shipping items for restoration. Thank you.
Below is a list of the restoration services we provide.
Fine Porcelain & Pottery
Glass & Crystal
Boehm
Royal Daulton
Lladro
Cybis
Nippon
Newcomb
Beleek
Rosenthal
Hummel
Roseville
Sevres
Imari
Satsuma
Wedgwood
Dorothy Doughty
Meissen
Sentimentals
Dolls
Cloisonne
Stone
Papiermache
Art Frames
Metla
Texas Pottery
and more.